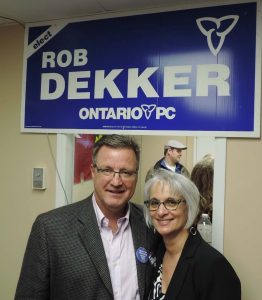 Rob has been a Candidate, Campaign Manager and Campaign worker on Ottawa campaigns since 2004.  He has worked on multiple campaigns on all levels of government.
Federally Rob worked on campaigns in Ottawa South, working on the federal election in the riding in 2004 for Conservative Candidate Alan Riddell. Rob later worked for the Conservative in the same riding in 2008, Elie Salibi.
In 2010 Rob was the Signs Manager for the successful Ottawa Mayoral campaign of Larry O'Brien, and worked on O'Brien's re-election campaign four years later.
Provincially, besides being a Candidate Rob had volunteered on several campaigns across the Ottawa region from canvassing, putting up signs (in the middle of a winter campaign) and lit dropping.  In the 2007 Ontario campaign Rob had a management role in the Ottawa Vanier campaign for Bruce Poulin.  Four years later Rob was a candidate in Ottawa Centre. After a second campaign in 2014, Rob was the Campaign Manager for Colleen McCleery, the Ottawa Centre Ontario PC Party candidate.
Political campaigns are not the only area where he contributes.  He has served as the Riding President for Conservative Party of Canada Ottawa South Electoral District Association.  From 2011 to 2018 Rob has been on the Ontario PC Ottawa Centre Constituency Association Board of Directors.
Rob continues to assist in elections campaigns and nomination races – it's an activity he enjoys thoroughly, often with his partner Liz.  Rob has two adult children that are busy building their lives.
On September 21. 2018 I endorsed Robert Elliott for the position of Ottawa Regional Vice-President on the Ontario PC Party executive.  I am pleased that Robert was acclaimed and will be an excellent RVP serving Ottawa area ridings.  I look forward to working with Robert and the Ontario PC Party in any capacity I can to have PC Candidates elected in every riding of the region. To read my letter on the endorsement please click here: https://www.facebook.com/rob.dekker.54
When he is not campaigning, Rob works on Parliament Hill for a Conservative Member of Parliament.